History of The Four Houses
The Houses at Wellington were named as a result of a school wide competition held in 1988, the Bi-Centenary, to mark the arrival of the First Fleet and 200 years of white settlement in Australia. The following extracts provide context:
The last part of the voyage from Cape Town to Botany Bay took about eight weeks. It was Captain Phillip's plan to go on ahead and seek out the best possible site for the proposed settlement before the main fleet arrived. He therefore transferred to the ship 'Supply' and split the convoy into three.'Supply' would proceed alone; the three fastest transports, 'Alexander', 'Scarborough' and 'Friendship' would follow at full speed,and 'Sirius' would escort the remainder of the Fleet at the best rate they could muster.
As it happened, 'Supply' arrived at Botany Bay on January 18. The second part of the Fleet followed within twenty-four hours, and the remainder of the Fleet made its appearance on the following day.
Phillip was not taken with Botany Bay as the site for his settlement, so he headed north to Port Jackson where; in his own words, he discovered:
…one of the finest harbours in the world, in which a thousand sail of the line might ride in perfect security.
By nightfall on January 26, 1788, Phillip's convoy was safely at anchor in Sydney Cove, named in honour of Lord Sydney.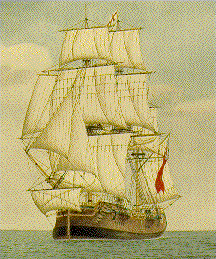 The Alexander
Weighing in at 452 tons, 114 ft long and 31 ft at the beam, the Alexander was skippered by Master Duncan Sinclair. She carried 195 male convicts and was the largest ship in the fleet. Being built in Hull, England, in 1783, little is known of her after her return journey and she disappeared from records in 1808.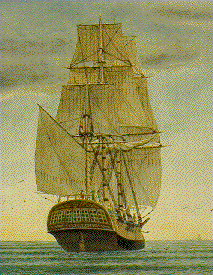 The Borrowdale
Very little is known about this ship and it disappeared from records after the return voyage to England. Skippered by Master Readthorn Hobson, this ship weighed 375 tons, was 75 ft long and had a beam of 22ft. She was built at Sunderland in England in 1785, only two years before the trip to Australia.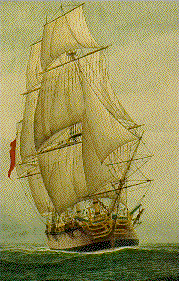 The Lady Penrhyn
This convict transport of 333 tons was skippered by Master William Sever. Built at the Thames in 1786, she carried 101 female convicts. After returning to England , she was put on the London – Jamaica run and was captured in 1811 in the West Indies.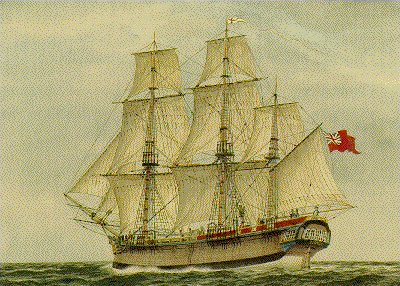 H.M.S. Sirius
Built in 1780 as the 'Berwick' for the East India trade. She was badly burnt in a fire and was bought and rebuilt by the navy in 1786 and renamed Sirius. After her arrival in Port Jackson, she remained as a supply ship and sailed to the Cape of Good Hope in October 1788 to obtain food suppies for the starving colony. After returning she was wrecked off Norfolk Island on April 14, 1790. 'Sirius' weighed 540 tons and was skippered by Captain John Hunter.